Where is change happening? Even for those of us who know that the road to a better world is long and hard to find on a map, it is too easy to look only at the events that are closest to us. It is easy to think that newspaper headlines tell us most of what we need to know about the world. And it is too easy to believe that elections are the only places that change occurs.
The Peace and Justice Project's participation in three important recent conferences in Hungary, Norway and Germany were inspiring reminders that those of us working for peace and social and economic change, need to focus on the bigger picture. We need to look beyond our own borders, look beyond the incomplete pictures in media reports, and remind ourselves that beyond countries' elected governments, there are rich landscapes of grassroots and emerging movements that hold the key to progressive change tomorrow.
In May, we travelled to Hungary for commemorations of the end of the Second World War, and to join the European Forum event United Against Fascism: Past and present of the fight against fascism in Europe, where our founder, Jeremy Corbyn MP, was a keynote speaker.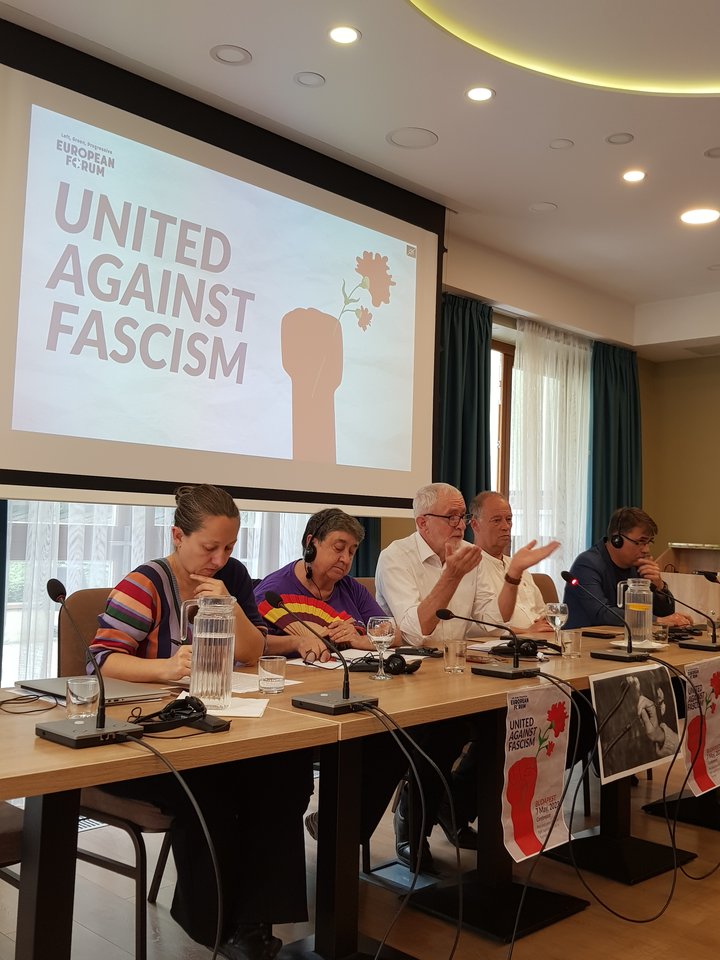 As headline-readers and election-followers know, Hungary has long been led by the extreme right government of Victor Orban. Both citizens and migrants have been impacted by his government's harsh policies, and the unrelenting hostility to refugees fleeing war, poverty and climate disasters that has created scapegoats and empowered the far right. It was hard not to focus on these sober thoughts as we arrived in Budapest.
What this event reminded us, however, was that there is much more to a political landscape than its elected leaders. In reflecting on the Second World War, speakers emphasised the need for peace talks between Ukraine and Russia, not least because of the nuclear threat that could bring dire consequences to us all. We heard from civil society groups and activists from across Europe on their work for peace and justice. In addition, there was an urgent discussion about the cost-of- living crisis, and the uncertain futures of young people at the hands of neoliberal governments whose focus on corporations and finance is fraying the fabric of society.
We were also invited at the last minute to what we expected would be a small informal meeting with the Szikra Party, a new Hungarian Green- left movement. We were greeted instead by a large, packed room of students and young people keen to hear from Jeremy and the Peace & Justice Project, and tell us of their hopes for genuine democracy and an economic and social model that serves the many. And, in Jeremy's interview with the independent media channel Partizan we were impressed by the thoughtful tone, sharp analysis and willingness to look internationally for inspiration.
In June, we travelled to Norway to a conference focusing on human rights and freedom of expression. The gathering in the Oslo House of Literature put Julian Assange's fight against extradition in the spotlight, and we were moved to tears by the testimony of Mansoor Adayfi about his 14 years of imprisonment and torture in Guantanamo – and his determination, then and now, to focus on compassion, humanity and hope. Mansoor's calm dignity, empathy and smiling face will remain with us.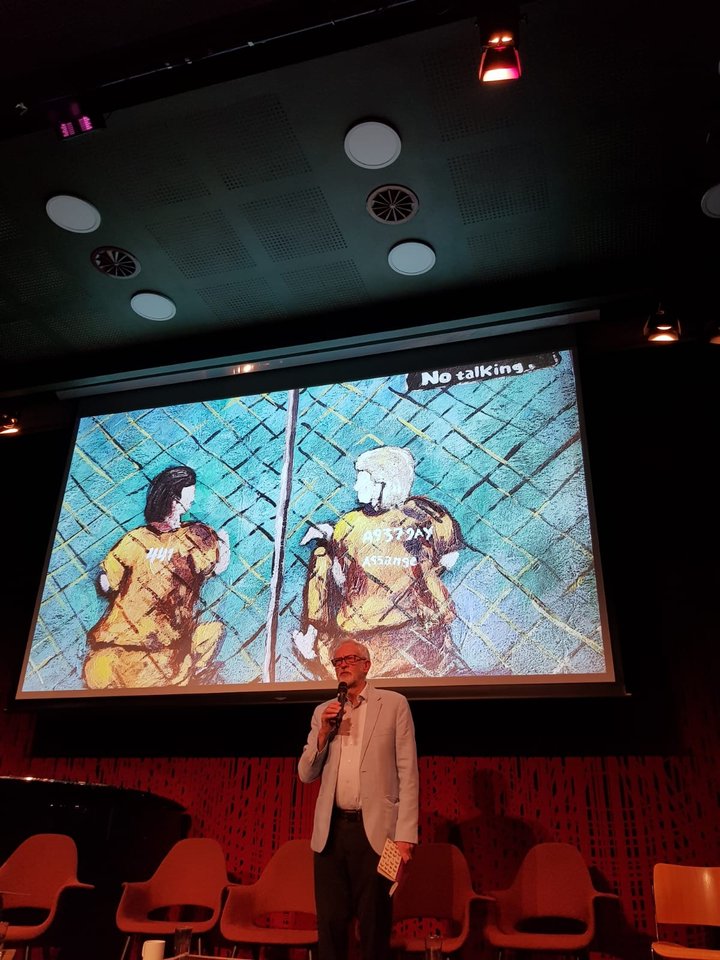 We were also invited to join the General Assembly of Rød Ungdom (Red Youth), a Norwegian youth organisation focusing on peace, climate and anti-racist activism, and known for its inventive ways to bring key issues – and politicians' failings – to public attention. Its passionate members spoke about Ukraine, workers' rights across Europe, and the cost of living crisis, which even in their wealthy nation has hit the poorest hardest of all. They were keen to hear from Jeremy on the people and groups working for change in the UK; whatever the issue, the common theme was their conviction that social and economic policies are only just and workable when they benefit all.
In June, we travelled to Hanau, Germany as invited guests to the trade union conference 'Winning Peace, Not War'.
Overall the focus was on the war in Ukraine; of the 300,000 people killed to date, we heard, "it is not the sons of the oligarchs who are being thrown onto the battlefields, but working-class people". Repression is not happening in Russia alone, it was noted: Ukraine has brought in anti-union laws, curtailment of civil liberties and banning of more than a dozen political parties.
As speakers detailed, the conflict has taken a toll on Germany's working class, with inflation at its highest since 1951 and more than half of Germans facing financial challenges. Trade unionists are calling for an end to the conflict not only to end immoral killing and escalation, but because the past 12 months have shown how difficult collective bargaining is in times of inflation, energy crises and profiteering. Every Euro spent on war is taken away from poverty-proof social policies, education and the socio-ecological restructuring of society.
Drawing lessons from history, speakers observed that wars place progressive organisations in constellations of contradictions. We heard of the rigorous debate among German trade unions as they face the challenge of putting their peace policy principles, positions and resolutions to the test.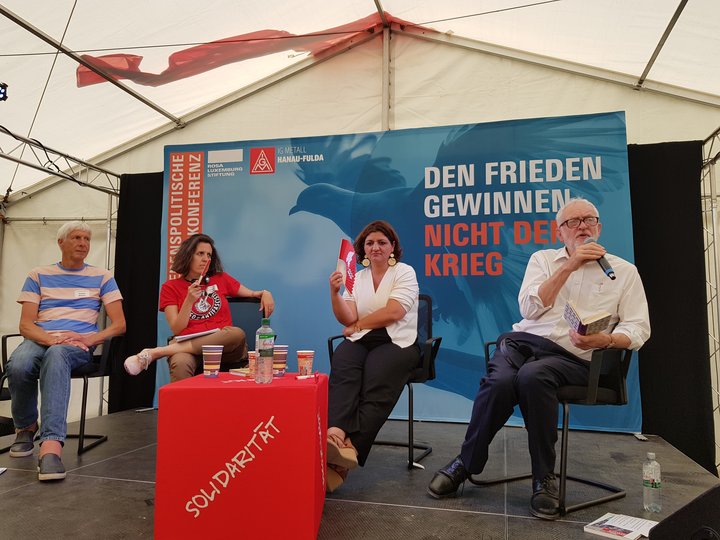 Echoing the theme of challenges, Jeremy spoke of the work of the Peace & Justice Project and its key demands – a real pay rise for all, democratic public ownership, housing for the many, taxing the rich to save the NHS, climate justice, peace and welcome for refugees – and outlined their connections to calls by unions, activists and progressive groups elsewhere. At the end of a question and answer session, a delegation of university students thanked him for his work for change – and presented him with a copy of their young people's manifesto, directly inspired by his 2017 manifesto in the UK. It was a vivid reminder of the way that hope, progressive ideas and calls for transformative change travel widely, beyond borders and short-term electoral cycles.
It is important to take heart from recent electoral victories by progressive and socialist forces, whether it is in Brazil and across Latin America, and more recently in Canada's largest city Toronto and in the new alliance between the Netherlands' two largest left-wing parties. However, it is equally important that when progressive political forces face setbacks, as we have seen in Greece, Finland and Spain, we do not despair. Just as no victories are final, no defeats are permanent – and as we heard in Norway, Germany and Hungary, the ballot box is only one snapshot of complex and changing landscapes.
As those of us working for a fairer UK know, even in an era of rising poverty, a widespread lack of political will to look beyond the punitive status quo, and new, repressive legislation on an unprecedented scale, there are still always grounds for hope. There are still always people working for change. There are still always lessons to be taken, and shared, around the world.
Laura Alvarez